On January 15, 1994, a group of diverse community members were brought together by Jeff Harris with the hope of realizing his dream of forming a premier community choir in the Phoenix-Metropolitan area. 
The energy and excitement of this group led to the founding of the Sonoran Desert Chorale, with its inaugural concert on October 29, 1994. This now highly regarded and artistically sophisticated choral organization performs music spanning time from the ancient folk music of Mongolia to the premier of modern compositions such as Prelude to Glory by Russell Wilson. 
The Chorale performs a repertoire meant to demonstrate that music is a language that transcends our differences and accentuates our commonality. After a celebratory 25th Season in 2018-2019 and the retirement of Founding Director Jeff Harris, the Chorale looks forward to the future. With a solid foundation of devoted singers and audience, the Chorale will continue to offer excellence in choral music!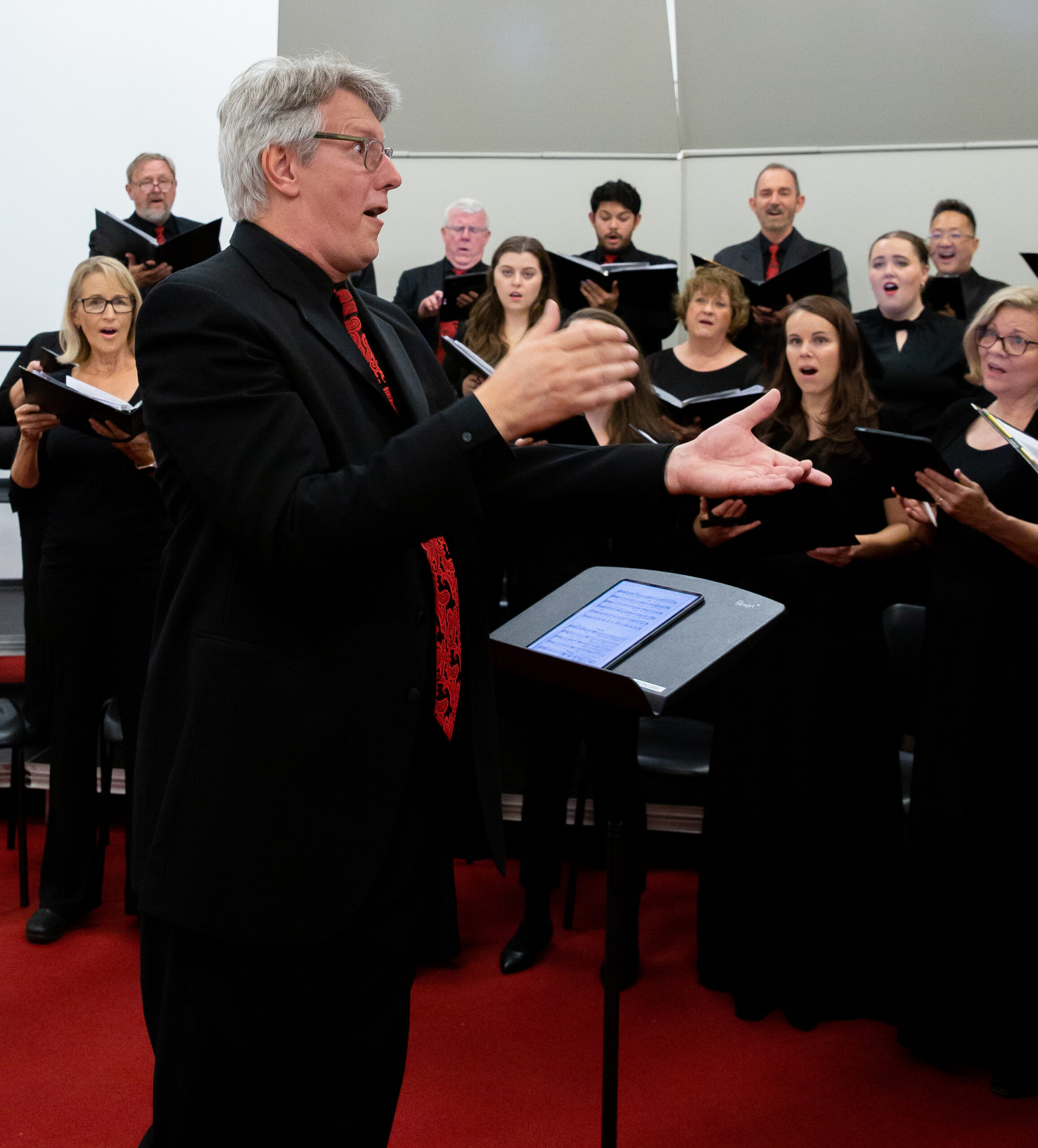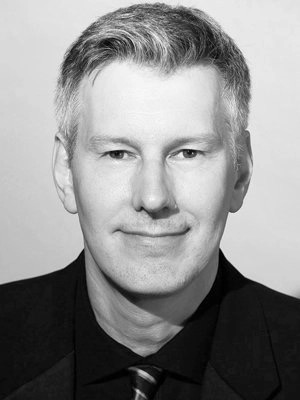 The Sonoran Desert Chorale is delighted to introduce to you our Artistic Director, Dr. Craig Peterson. Craig has an impressive and extensive biography of choral music experience to help us bring you moving and inspiring concert experiences next season!
He is the Director of Choral Activities and music department chair at Mesa Community College where he has directed two chamber choirs, a concert choir, a jazz choir and teaches choral music education classes.
He received his Bachelor of Music Degree from Concordia College where he studied with Paul J. Christiansen and he earned his Masters and Doctoral Degrees in Choral Conducting from Arizona State University where he studied with Douglas McEwan and Donald Bailey.
Craig has served in numerous leadership roles including AMEA all-state jazz chair, vocal jazz, and two-year college repertoire and standards chairs. He also served as president for AZ ACDA. Groups under Craig's direction have consistently received superior ratings at area festivals and have appeared at the AZ State ACDA Convention, the AZ Music Educators Convention, at three ACDA Western Division Conventions, and the National Convention of the Orff and Kodaly Music Teachers Association.
Dr. Peterson has prepared choirs for the Phoenix Symphony and the Boston Pops Orchestra. He has served as the assistant director of the Phoenix Chorale, an assistant conductor with the Phoenix Boys Choir and he continues to be in demand as a clinician and singer throughout Arizona and beyond. He has sung bass on several recordings with both the Phoenix Chorale and Conspirare, and has also sung professionally with the Cincinnati Vocal Artists, the Santa Fe Desert Chorale, and True Concord.
Overseeing the administrative side of the Sonoran Desert Chorale is our Board of Directors – comprised of individuals with skills in finance, marketing, development, and strategic planning. The board members are committed to working in partnership with all other facets of the organization to ensure the SDC's continued success as one of Arizona's premier vocal ensembles.
John Page, President
Dad, Husband, Baritone, Engineer, born and raised in Arizona, NAU Grad, and former Royal Renaissance Singer. Joined the chorale in 2016 and loving it!
Kevin Gardner, Treasurer
Kevin has been singing baritone with the Sonoran Desert Chorale since 1996 and joined the board after sending both of his sons off to college. Kevin has served a number of various volunteer roles for the Chorale, including arranging the KBAQ/KJZZ advertising, and producing the "City Called Heaven" CD. For his day job, Kevin is a Chief Engineer for Honeywell Aerospace, where he has been challenged and learning since 1983. Hobbies include snow skiing and hiking the many beautiful areas of Arizona.
Jon Sywassink, Secretary
Jon joined the Chorale the year of the Italy choir tour in 2007. He serves as the bass section leader and has music degrees from the U of A and ASU. He retired as an elementary music teacher after teaching for 32 years in Arizona and was also a church music director for many years. Currently Jon is a church organist in Tempe. Square dancing, yoga, and travelling are his go to pastimes.
Lynn Kough
Lynn joined the Chorale in 2000 and her primary responsibility on the Board is to generate marketing materials and the programs for the Chorale. Lynn is a retired high school English/Drama and national touring quilting teacher living in Chandler with her ever-supportive husband, daughters, and elderly rescue dogs.
Bill Goodenberger
Bill has been singing with the Chorale since 2000. He sings baritone now after having spent 13 years in the Tenor section. Bill studied Choral Education and has directed church choirs for 30 years. He is into volunteerism and has filled several roles for the Chorale. He recently retired from the Arizona Department of Economic Security and is looking forward to spending more time at many hobbies including woodworking, camping and reading.
Erik Arriola
Erik first sang under the direction of Jeff Harris at Westwood High School in Mesa, Arizona. After graduating from Westwood, he attended MCC and then ASU, where he studied Music Performance and Business. Erik keeps the performance bug under control by singing tenor for the Sonoran Desert Chorale. Erik's primary responsibility on the Board is CD Sales and Social Media Advertisement and Marketing.
Megan Loney
Megan grew up with the Chorale as a regular part of life, as both of her parents have been involved as a singer and organist for over 20 years. As a child, she could often be found at concerts helping the stage manager and, as soon as she was tall enough to reach the music rack and able to follow the music, she assisted her mom, Dr. Bonnie Loney, at the organ as the registrant. Megan is an oncology nurse and Bone Marrow Transplant Coordinator who knits in her spare time…and still assists her mom at the organ.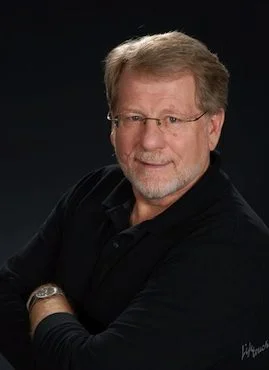 Director Emeritus - Jeff Harris
A note from the Founding Director…
In 1994, a group of eight community-minded singers gathered in my living room in Mesa to create what would become the Sonoran Desert Chorale. Our excitement was tempered by the uncertainty of not knowing who would come to sing. Was there a niche for an auditioned adult chorus in the Valley? In the pre-Internet and presocial media days, we had to rely upon newspaper and radio ads as well as word of mouth to advertise auditions. So, with a nod to Field of Dreams, I can say that "we built it, and they did come." From that first auditioned choir of forty eight singers, the Sonoran Desert Chorale has gone on to be a musical family for hundreds of singers and has enriched thousands of listeners over the past twenty-five years
Looking back on the experience, there hasn't been one night of rehearsal that did not lift my spirits and give back to me every bit of energy that I may have invested into the Chorale. It has been an honor to be associated with the many fine singers and community people who have nurtured and supported the Chorale in our efforts. Together, we have created wonderful musical memories.
I need to take a moment to extend my thanks to the mentors who made a difference in my career choice. I was fortunate to grow up in a small Iowa city where the arts were an integral part of the school system and the community. My high school choral director, Larry Mitchell, set the standard for achieving excellence when the Fort Dodge A Cappella Choir gave a life-changing performance at McAlester College at the invitation of Dale Warland. J. Eugene McKinley continued the development of my love for the choral art at Iowa Central Community College where I was introduced to the music of the Renaissance. Gene McKinley literally changed the course of my life when he connected me with Dr. Douglas R. McEwen, the Director of Choral Activities at Arizona State. Dr. McEwen taught me the art of conducting and how the conductor connects the music to the singer and the audience. During my course of study at ASU, I was fortunate to student-teach with a master teacher, Warren Dennis of McClintock High School, who went on to become a charter member of the Chorale and a life-long friend. And, the entire Chorale owes a debt of gratitude to Dr. David Bauer of the University of Nebraska Kearney who has been a source of creative and exciting repertoire over the years.
We are all the sum of our experiences and relationships. And so, from those rich foundations, I am proud to say that the Sonoran Desert Chorale has become one of the premiere choral ensembles in the state. It has been an amazing "ride." I cannot express enough thanks to all of those who have given their time and talents in our musical efforts. Whether we were singing the complex polyphony of Renaissance master Gabrieli or the simple beauty of an American folk song, we have always striven for excellence. And, we have done so with joy. As I literally "pass the baton" to my successors, I do so with the confidence that the Sonoran Desert Chorale's song will indeed go on. It has truly been a joyful journey. 
God bless you all! 
Jeff Harris